As part of its "Toxic City" series, the Inquirer and Daily News investigated how environmental hazards in district buildings all across Philadelphia put children at risk and deprive them of healthy spaces to learn and thrive.
During the last eight months, reporters examined five years of internal maintenance logs and building records, interviewed more than 120 teachers, students, nurses, parents, and experts, and enlisted school staffers to help test for four health hazards: mold spores, lead in water, lead dust from chipping and peeling paint, and asbestos fibers in settled dust.
Staffers at 19 of the district's most rundown elementary schools agreed to conduct tests. Reporters provided them with lab-issued equipment and written instructions on how to follow scientific guidelines. Of the 19, staffers at 11 schools tested for asbestos fibers on surfaces.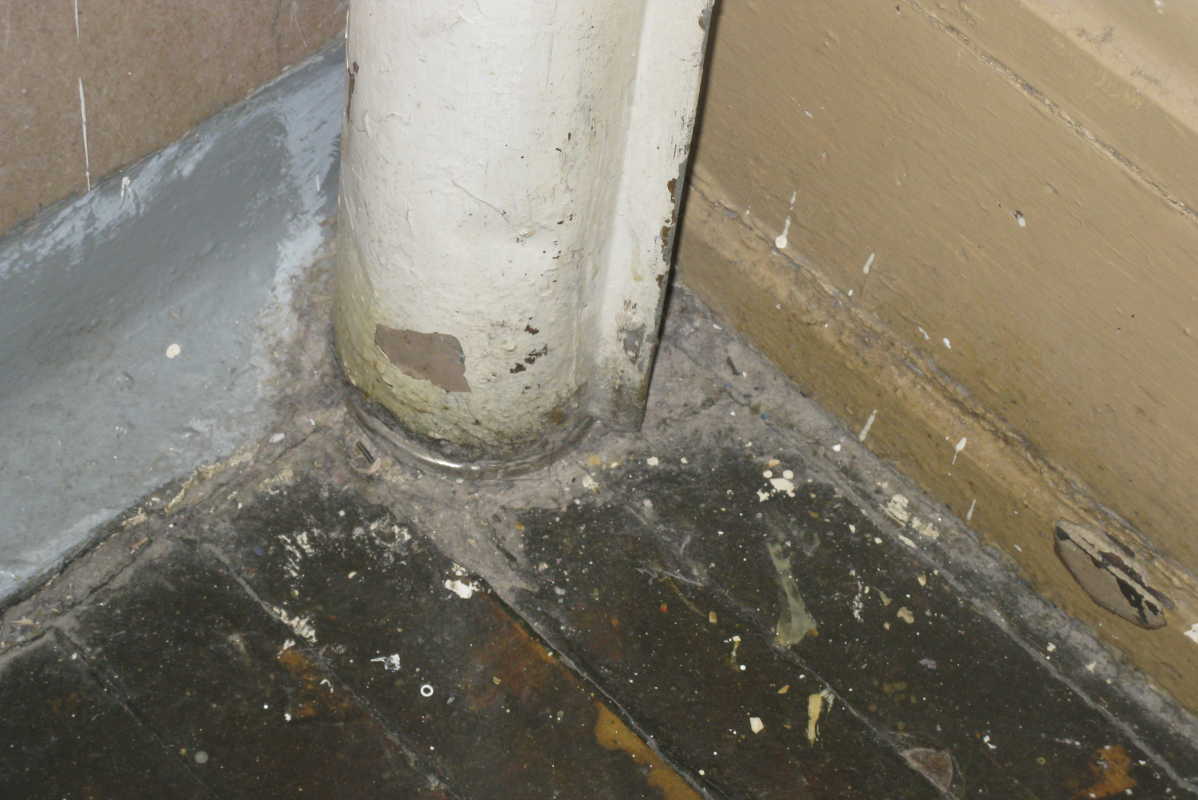 Unnamed source
A sample of settled dust taken in January from the floor around this hallway pipe near a sixth-grade classroom at Olney Elementary tested at 8.5 million asbestos fibers. The asbestos pipe is partially encased in a metal jacket.
The investigation found alarmingly high amounts of asbestos fibers on floors in gyms, cafeterias, hallways, classrooms, and auditoriums. Test results in six of the 11 schools, including Lewis C. Cassidy Academics Plus, came back above 100,000 asbestos fibers per square centimeter. The highest test result — 8.5 million asbestos fibers — came from a floor near an insulated pipe in a hallway just outside a sixth-grade classroom at Olney Elementary School.
District officials have criticized the newspapers' testing. They questioned the collection methods and argued that air monitoring for asbestos — not surface wipes — is far more accurate and is the only testing method required by law.
"It does concern us to see tests done in schools where we don't know about how they're being performed. Is the person qualified and taking the sample properly?" Francine Locke, the district's environmental director, said in a March interview.
But several independent asbestos experts validated the newspapers' approach, calling surface tests "a very powerful investigative tool." In fact, the Environmental Protection Agency used that method to help qualify Libby, Mont., as a Superfund site for asbestos cleanup.
The Inquirer and Daily News investigation also found that damaged asbestos has gone unrepaired in schools for up to two years, inspection records show. That was true even when inspectors flagged the repairs as "high priority."
Even after asbestos repairs were made and officials said students could return, large amounts of fibers were left behind on surfaces in some cases, according to the newspapers' testing.
"We shouldn't have any asbestos in any dust anywhere," said Christine Oliver, a former Harvard Medical School professor and author of a 1991 study about the health impacts of asbestos on custodial staff at Boston public schools.
"Settled dust is settled one minute and then the next minute, it's entrained and it's in the air and in your breathing zone."
'WE GROSSLY UNDERESTIMATE'
Asbestos, once dubbed a "magic mineral" for its durability and heat resistance, can be found nationwide in schools built before 1980. It can be found wrapped around steam pipes as insulation, sprayed on walls and ceilings as soundproofing in auditoriums, and found inside floor and ceiling tiles. Even the adhesive that holds floor tiles in place may contain asbestos.
But perhaps nowhere is the reckless legacy of asbestos more acute than in Philadelphia schools, with an average age of 70 years, and a dozen so decrepit they should be knocked down and replaced. Roughly 11 million square feet of asbestos remain in district buildings — enough to cover the Pennsylvania Convention Center more than 11 times over, according to the newspapers' analysis of district records.
WHAT OUR TESTING SHOWED
Reporters were able to collect dust samples to test for asbestos on 84 surfaces inside 11 Philadelphia district schools. Nine of the schools had elevated asbestos fiber counts in student-accessible areas. Half of the samples were above 5,000 fibers per square centimeter, the level the EPA set to qualify for federal cleanup of apartments near Ground Zero. Asbestos abatement professionals typically use air monitoring to detect the number of fibers. Dust-wipe sampling is an investigative tool to indicate potential airborne hazards.
Elementary School
Testing location
Fibers per square centimeter
Olney
Second Floor Hallway, near Room 311
8,510,000
Cassidy
Closet Floor of Room 302
4,070,000
J. Hampton Moore
Second Floor Hallway
2,590,000
J. Hampton Moore
Second Floor Hallway
1,920,000
A.S. Jenks
First Floor Classroom, closet floor
1,630,000
A.S. Jenks
First Floor Classroom
1,150,000
HA Brown
Hallway Between Cafeteria and Gymnasium
1,110,000
HA Brown
Gymnasium
1,110,000
J. Hampton Moore
Second Floor Hallway
962,000
HA Brown
Gymnasium
925,000

See all samples
SOURCE: Samples independently obtained by Philadelphia Media Network; Analysis conducted by International Asbestos Testing Laboratories
GARLAND POTTS / Staff
Asbestos in tiles and insulation isn't dangerous if these products are kept in good condition. But after years of wear and tear, the fibers can break off and be released into the air. The microscopic fibers are so lightweight, they can float for hours.
Inhaled over time, the fibers can cause asbestosis, a debilitating lung disease, and mesothelioma, a rare aggressive cancer that develops in the lining of the lungs, abdomen, or heart. Asbestos has also been linked to cancers of the esophagus, larynx, stomach, kidney, colon, rectum, and ovaries.
"We grossly underestimate the impact of asbestos as a cause of disease," said physician Arthur Frank, an environmental and occupational-health professor at Drexel University's Dornsife School of Public Health.
The fibers are like spears, needle-sharp. But they are too small to be felt when they pierce organs and body tissues. "The asbestos fibers can go everywhere in the body," Frank said.
Whether someone develops a disease largely depends on the amount and duration of exposure.
People who develop asbestos-related diseases show no sign of illness because it can take 10 to 50 years or longer for symptoms to appear. The EPA has concluded that the only safe level of exposure to asbestos is zero.
In the 1980s, federal lawmakers recognized that asbestos in schools was such a massive problem that they enacted a law in 1986 designed to protect students from exposure: the Asbestos Hazard Emergency Response Act (AHERA).
Under the Reagan-era law, the school district must keep records of all asbestos, noting its location and condition in each building. The district is required to do a comprehensive building inspection every three years and a visual walk-through every six months. The district removes or repairs asbestos, on average, more than 200 times a year, city records show. According to a budget for fiscal year 2017-18, the district plans to spend more than $5 million on major asbestos jobs.
When the Philadelphia district did its last full inspection in the 2015-16 school year, more than 80 percent of the schools had damaged asbestos. In all, gouged, cracked, or loose asbestos was found in 2,252 locations, including many frequented by children, according to the newspapers' analysis of district records.
In more than one quarter, or 639 locations, the district's environmental inspectors were so concerned that they marked the damage spots as "high priority" and "newly friable" because of the potential health risks. ("Friable" refers to asbestos that "when dry, may be crumbled, pulverized, or reduced to powder by hand pressure," according to federal regulations.)
Damaged asbestos must be repaired or removed "in a timely manner," although "timely" is not defined in the federal law.